Thank you to the Merrimack River Feline Rescue Society (MRFRS) for granting Kitty Connection funds that allowed us to to trap, neuter, and return outside roaming cats in the cities of Medford and Everett and provide low-cost spay/neuter for owned cats to income-eligible Medford and Everett residents. In three months, 2200+ cats were spayed/neutered by the groups (including Kitty Connection) who received this grant. For more details and to find out how you can help and be helped, please visit the following links: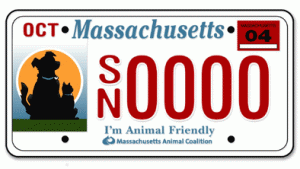 Thank you to the Massachusetts Animal Coalition for granting Kitty Connection funds for our Trap/Neuter/Return Program through its "I'm Animal Friendly" License Plate Grants!
You don't need to go to the RMV for one of these great plates… just go to www.petplate.org and order your tax-deductible Plate today.
Kitty Connection is dedicated to rescuing homeless, abandoned, abused or unwanted cats and dogs. All the pets in our organization are fostered by volunteers until loving homes are found. We also provide low-cost spay/neuter programs and work to educate the public on the importance of being a responsible pet owner. Kitty Connection is an all-volunteer organization and runs solely on donations. Kitty Connection is an IRS-certified 501(c)(3) non-profit organization. Donations may qualify as a charitable deduction for federal income tax purposes.