Winter's greetings from all of the Kitty Connection volunteers and from all of the cats & dogs awaiting their forever homes! Please help make the season more special by adopting, volunteering or donating to help animals in need!
Kitty Connection is dedicated to rescuing homeless, abandoned, abused or unwanted cats and dogs. Kitty Connection is an all-volunteer organization and runs solely on donations. All rescued cats and dogs are fostered by volunteers in their own homes until loving adopters can be found. Kitty Connection also provides low-cost spay/neuter programs to those pet owners in need and works to educate the public on the importance of being a responsible pet owner.

Kitty Connection is an IRS-certified 501(c)(3) non-profit organization. Donations may qualify as a charitable deduction for federal income tax purposes.
Kitty Connection is URGENTLY seeking temporary housing for a chihuahua and two 2 year old cats. If you can help, please contact us at
kc@kittyconnection.net
or by calling 781-393-9995 immediately!
Please help us raise money for emergency surgery! Check out
George Foreman's story
and please give what you can!
Kitty Connection's current wishlist:
Postage Stamps
Paper Towels
Canned Cat Food
Feline Pine Pellets
Grain Free Natural Balance Dry Dog Food
Pet Supply Plus Gift Card
Donations can be dropped off at Kitty Connection's bin at Pet Supplies Plus in Fellsway Plaza, Medford, MA. You can also mail them to us at Kitty Connection, P.O. Box 559, Medford, MA 02155. Thank you very much!
Do you shop on Amazon? Did you know that you can help to support Kitty Connection at the same time?
Log in with Amazon Smile
and Amazon will contribute a portion of the purchase price to Kitty Connection!
Kitty Connection begins what they hope is one of many Outreach Events at the Meadow Glen Mall in Medford. If you need low cost medical assistance, have strays in your area that you are feeding, would like to adopt a pet or need pet assistance of any kind, you can visit Kitty Connect Volunteers who will be there from 10 am to 2 pm. You can bring food and Feline Pine litter donations. Monetary donations appreciated.
Watch the video "
Who Saved Whom?
" featuring Marie Mazzeo, the volunteer coordinator for Somerville-Cambridge Elder Services, and the founder of Kitty Connection. With her connection to both organizations, Mazzeo attends to the emotional and physical needs of our elderly population by pairing them with companion animals.
Kitty Connection featured on the MassRealty website:
"Another non-profit organization doing wonderful things for the town of Medford is their very own Kitty Connection. Homeless, abandoned, abused, and unwanted dogs of the community are cared and loved for by the volunteers of this group. In their eyes, every animal, just like every human being, deserves a loving and safe home. Apart from their care services, KC also provides low cost spay/neuter programs and work to educate the public on the importance of being a responsible pet owner. Members of the community looking for the addition of a pet to their home should consider adopting one of their precious animals. Adopting one of these animals makes room for more neglected pets coming in!"
 –
Read more here.
@BostonGlobe subscribers: vote for Kitty Connection in the @GlobeGrant program! Vote here:
http://bit.ly/1NDPd6t
#GlobeGRANT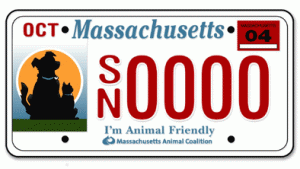 Massachusetts Animal Coalition
supports spay/neuter programs through its "I'm Animal Friendly" License Plate Grants! Go to
www.petplate.org
and order your tax-deductible Plate today.